Disclosure: This shop has been compensated by Collective Bias, Inc. and its advertiser. All opinions are mine alone. #CueTheNewYear #CueVapor #SatisfactionAtLast #CollectiveBias
This post is intended for an audience of adults age 18 and older.
Have I mentioned how much we enjoyed our trip to Pittsburgh? Ahh, we had the best time! It's such a cool city and since we're so close you can bet we're going to be visiting there a lot. I'm not saying another move is on the horizon but I am saying that if I were going to move again Pittsburgh would definitely be a top contender. When we got back last weekend we didn't even bother to pack our weekend bags away. Instead, we stuffed them under the bed because we both know we'll be using them again very soon. We've taken so many little trips over the last few years that we've kind of become masters at mini-packing. I've even mastered how to pack the messy stuff like liquids, powders, and my husband's vape kit.
If you've never tried to travel with a vape kit you have no idea how messy those they can be with the coils, the liquid, and the leaks. Trust me, you do not want leaky vape liquid on your clothes because it's a horrible mess to get out in the laundry. For our trip to Pittsburgh, we traded in his usual kit for the Cue™ Vapor System. We ordered it online about a week before we left and it arrived just in time. You can also sign up for their subscription program and save 15% on cartridges! I was thrilled it arrived before our trip because it was much easier to take along on the road. Since one of our 2018 goals is to travel more often the compact design of the Cue Vapor makes it much easier for us to plan travel and crush our travel goals.
Brandon switched to vaping a couple of years ago while we lived in Atlanta and of all the kits he's tried the Cue Vapor is the one that really lives up to its brand promise, Vaping. Made Simple.™ The device has such a simple design that anyone (even a vape novice) can take it out of the box, insert a cartridge, and vape. There are no messy coils to change, no liquid droppers to use, and no tanks to constantly refill. The entire system includes only the patented device and pre-filled disposable cartridges.
Brandon vapes 3mg liquid which has a smoother flavor that tastes less harsh and has less of an impact on his breath and his teeth. He also tends to prefer sweeter flavors so the vanilla cream and limited edition blueberry donut flavors we ordered were instant favorites. A lot of the shops we've ordered from tend to stock citrusy flavors so the fast shipping from Cue Vapor was a big bonus for him as well.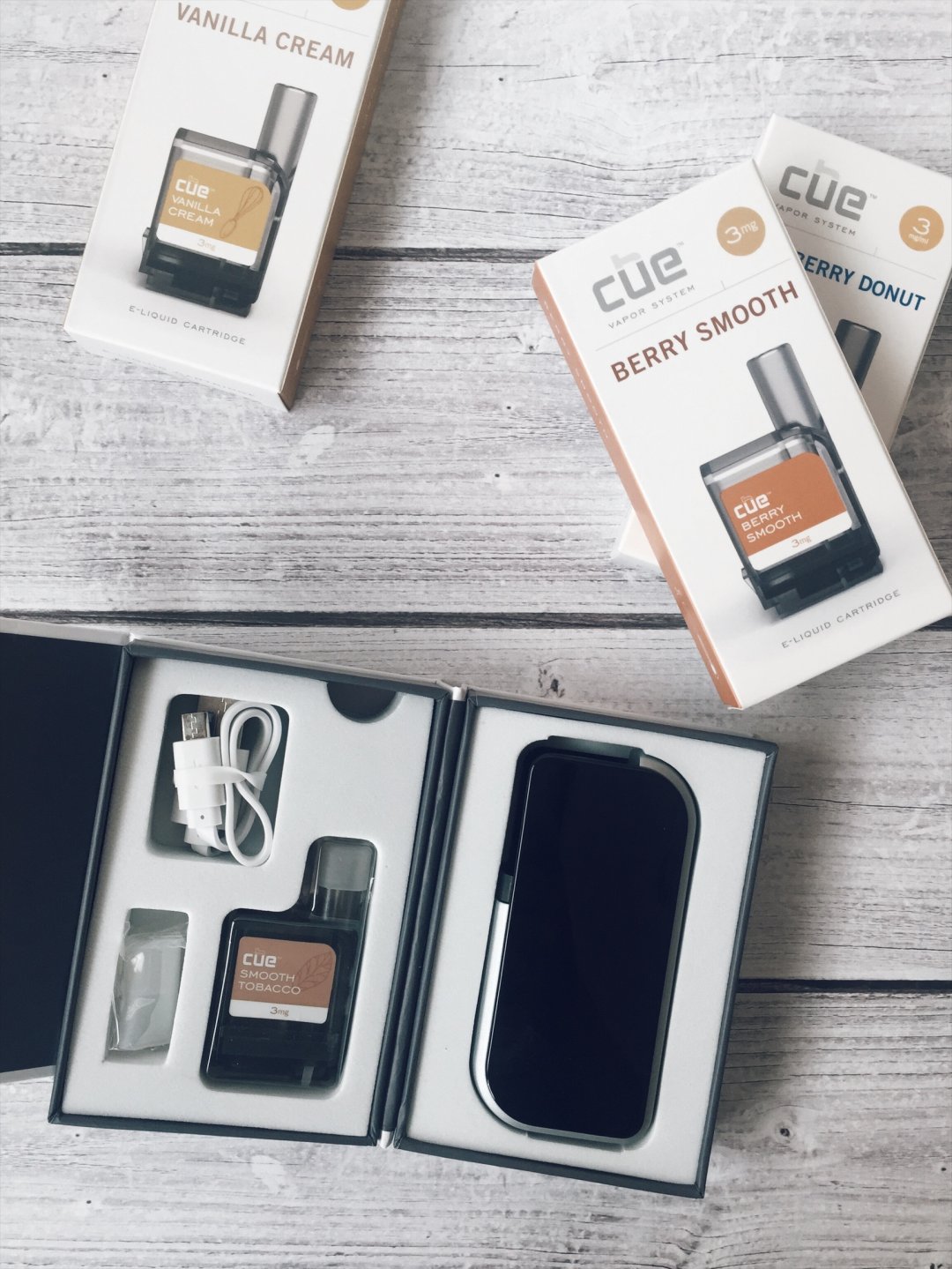 The Cue Vapor System is so much easier to travel with because it's a cleaner more streamlined design than other kits we've tried. It's as simple as popping in a cartridge and pushing a button. I love that this system doesn't require changing any messy coils or packing any half-used bottles. We also haven't had a problem with this one leaking while vaping so that's a huge plus!
When it comes to packing it for a weekend away it's as simple as popping on the cap and slipping it in your zip pocket (or jeans pocket or coat pocket or…). The cap slips back on and the two other stoppers can fit back into the side for a nice snug fit which could help keep the liquid from dripping out. No fancy storage containers required; although, if you do want to be extra-safe you could put it in a zip bag before packing….especially for air travel with pressure changes that make leakage more common.
We bought our Cue Vapor System online (here) but if you want to shop local check here for their store locator list.
NOT FOR SALE TO MINORS. California Proposition Warning statement: "WARNING: This product can expose you to chemicals including nicotine, which is known to the State of California to cause birth defects or other reproductive harm. For more information, go to www.P65.com. WARNING: This product contains nicotine. Nicotine is an addictive chemical. Cue™, the Cue Logo and Vaping. Made Simple.™ are trademarks of Digirettes, Inc.